Tips for the Perfect Senior Portrait Session
How to be your most confident self in your senior pictures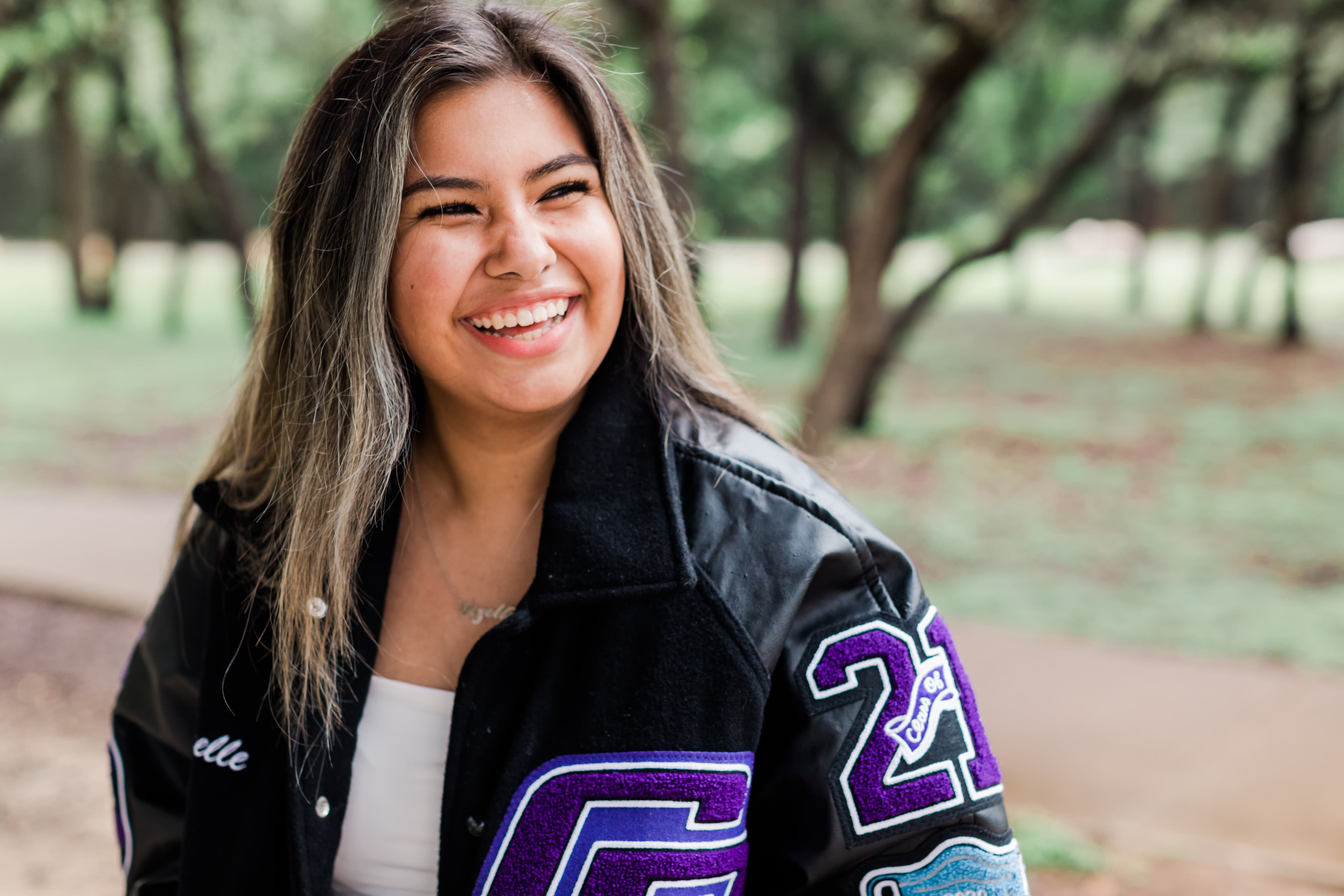 Written by guest blogger: Melinda Yeh
Congratulations, you're a senior! And becoming a senior also means getting your senior portraits done. Senior portraits are a great way to celebrate this chapter of your life (and something you can look back fondly on in the future)! 
However, sometimes getting your picture taken can feel a bit awkward, especially if you're unsure about how to dress or pose in front of the camera. Luckily for you, we have gathered some tips below to help you feel more comfortable and confident during your portrait session.
The Outfits
A general rule of thumb is to bring two to three outfits for your senior pictures. One of these could be casual, another could be formal, and if you choose to have a third outfit, bring something that ideally includes a prop. This third outfit could be related to an extracurricular, a hobby, or it could be something that shows off your unique personality and style.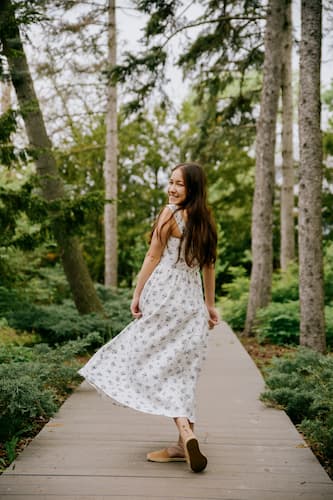 We know it can be difficult to decide on your outfit, especially if fashion is not your forte. That's why we have gathered some general tips for you below to help guide your decision-making process!
Basics:
Wrinkle-free and clean outfits. A crinkled shirt could affect how professional your portraits come out. Remember to press anything that needs pressing the night before and check the cleanliness of your outfits (including your shoes).

Consider getting your hair and/or makeup professionally done. Although this is not necessary for great senior pictures, having someone else to pamper you could help you feel your absolute best.

Make sure you feel good in your outfits! Try them on the night before to make sure everything fits comfortably and makes you feel a million bucks. 
Be careful with…
Overly bright or neon colors. These could potentially clash with your surroundings during the photo shoot. That said, if you look and feel your best in bright, bold colors - go for it!

Busy patterns or stripes. Some patterns may not photograph well. If you decide to wear a pattern, try testing it out in photos beforehand to get an idea of how it will look in your senior pictures. 

Anything with a big logo. Senior pictures are supposed to be about you and giant brands may distract the central focus away from you.

Graphic tees. Designs on your shirt may also be distracting. That being said, graphic tees could also be a fun way to show off part of your personality. 
There are no set rules for what clothing will work best for all photo shoots. Ultimately, whatever makes you feel good is the best choice!
A quick tip: Remember to communicate with your photographer about what you want out of the session beforehand. Your photographer can help you meet your vision and even help guide you if you are having trouble planning for your portraits. 
The People
Obviously, senior pictures are supposed to be about you, but it could be a great idea to include other people too! Consider inviting your best friend, sibling(s), or even bringing your pet. If you are feeling nervous or awkward about posing or getting your photo taken, having a good friend or family member with you can help alleviate these feelings. 
Not only will including others in your portrait session create opportunities for amazing candid shots and variety, it can also turn your photo shoot into another cherished experience with your loved ones (talk about a new core memory)!  
Another tip:try to make sure that whoever is joining you during your photo session will color-coordinate with what you wear. The colors don't have to be an exact match, but colors that complement one another are preferred. The last thing you want is for everyone to clash together in what would otherwise be a beautiful photo! (Not sure what colors go together? Check out these color palette ideas from Color Hunt!)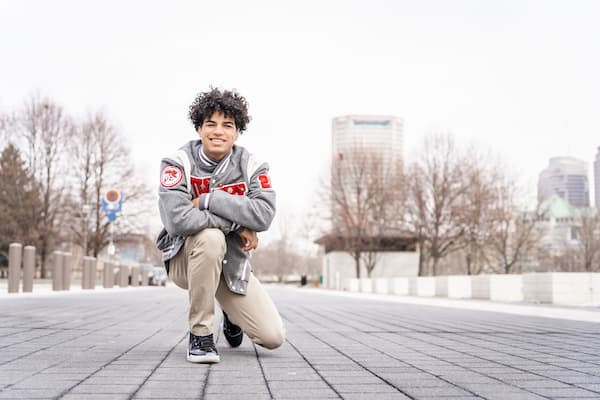 The Location
When selecting your location, think about what vibe or feeling you want to evoke from the photoshoot! 
Want a fun and funky vibe? Maybe you should choose a downtown city location.
Want a more thoughtful, relaxed feel? You might prefer a quiet park or woodland location.
If you want to have a more timeless look, try making sure that there are at least two spots with a neutral, generic background at your shoot location. This could be a wall, a green space, or even an indoor studio. If you are unsure your spot has enough neutral backgrounds, try looking the place up online or visiting in-person. You could also take this opportunity to decide where exactly at the location you would like your picture taken which will help you save time during the actual session. 
The Poses
It can be hard to know how you should stand in front of the camera and what to do with your hands! We highly recommend doing some research ahead of time for poses you might like to try on the day. 
Find some poses you like and try them out at home before the photoshoot – watch yourself in the mirror if you need to! If you are not used to having your picture taken, practicing poses could help you feel less awkward during the session. For posing suggestions check out these recent blog posts: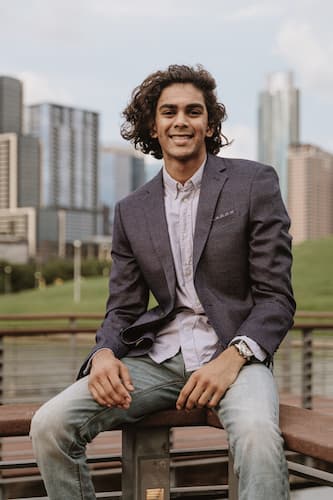 The Lighting
Lastly, be sure to consider lighting conditions when scheduling the time of day for your photo shoot. Try to avoid booking a mid-day session if possible as the lighting can often be harsh and unflattering. Your best options for a soft, warm, and more photogenic light is to schedule your shoot during early morning or early evening.
(For more tips about getting the best lighting conditions for your senior portrait session, check out our article, When should I schedule my photoshoot?)  
Don't forget…
The most important thing is that you enjoy your senior portrait session – this only happens once in your life! Remember to breathe and relax. Even if you usually don't like having your picture taken, these photos from your session will be something to look back on and reminisce about for years to come. 
After all, pictures can last forever, so why not snap some portraits to celebrate and memorialize senior year?   
---
Shoott is an AAPI female-run photography startup operating in 60 cities across the US! A company by creatives for creatives, our business model strives to make professional portrait photography more accessible by improving the gig economy for freelance photographers! Want to know how our local, free session model works? Click here...
---