Watching less, listening more
Shoott staff recommends: podcasts!
By Jennifer Tsay, Cofounder & CEO
Fri, May 15 2020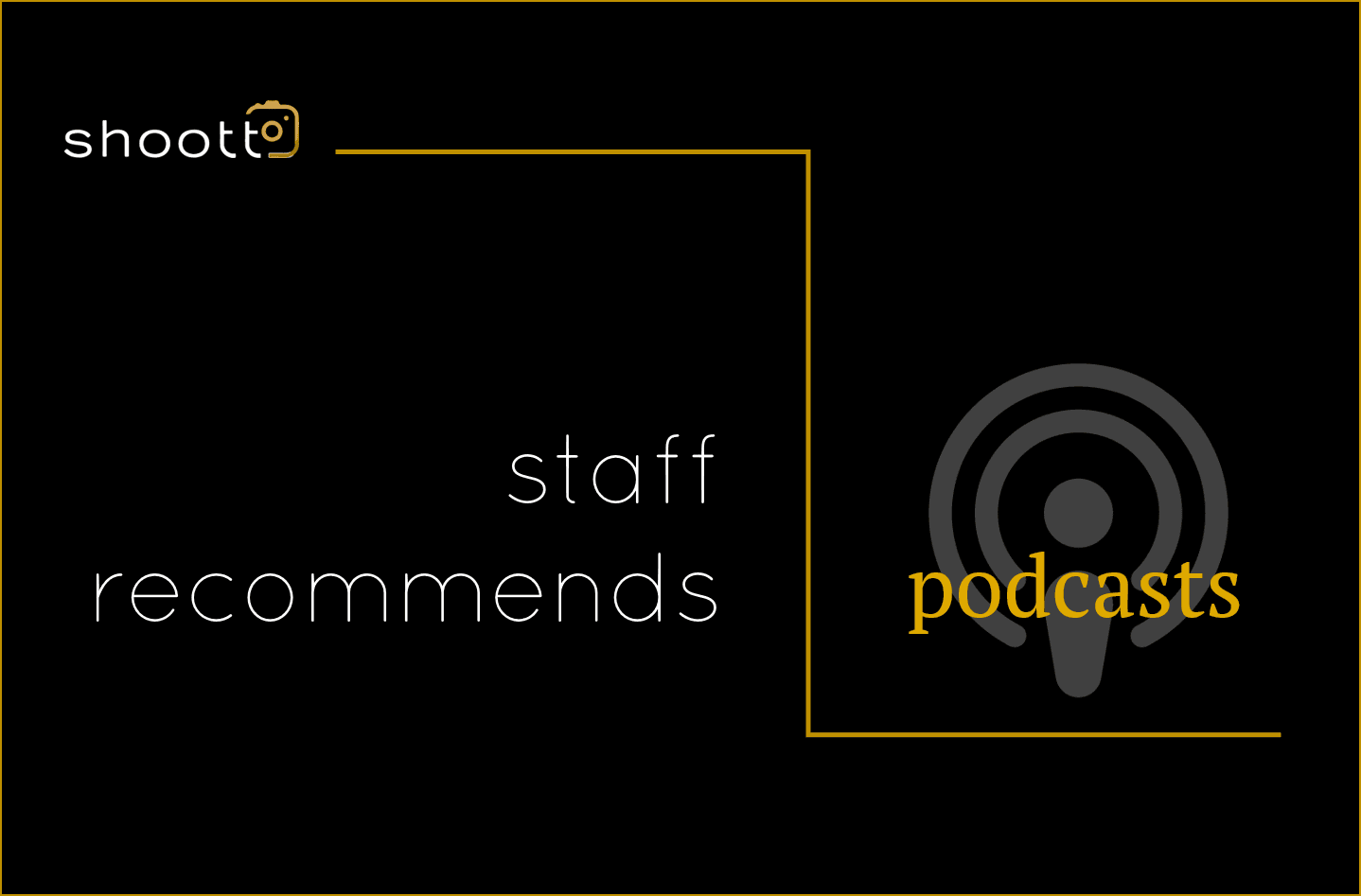 We've all been spending a lot of time at home lately, and lots of folks I know have been binge-watching the latest shows on Netflix or revisiting old "classics" that provide a much-needed dose of nostalgia. But aside from a weekly Netflix Party movie night with friends and keeping up with the requisite cultural zeitgeist [CAROLE BASKIN TOTALLY DID IT], I've found it difficult to just sit and watch TV and instead have found solace in watching less and listening more to podcasts.
Maybe it's because they allow me to listen to something engaging while anxiously pacing my apartment, rearranging the same four books for the sixth time? Who knows, but for any kindred spirits out there, I'd like to share the (non-sponsored!) podcasts that have helped keep me sane while quarantining solo. 
This is an all time favorite: a true crime comedy podcast hosted by Karen Kilgariff and Georgia Hardstark released by Exactly Right. The duo loosely research their favorite murders and re-tell the story of the crime to each other. It's funny, conversational, and dare I say "light" given the subject matter. If you're into true crime, comedy, and love to prepare for the worst, this podcast might be perfect for you! There are also 221 episodes to listen to, so you'll never run out. 
Great for: Those of you with a dark sense of humor, emphasis on the sense of humor (let's be friends!)
Another true crime standby (are we sensing a theme?), Criminal is a short, smart, investigative podcast hosted by Phoebe Judge and released by Radiotopia. Each episode is about 20 minutes long and focuses on different aspects of crime from the homicidal and procedural to the philosophical. One of my favorite episodes, Hostage, is about the bank robbery that inspired the term "Stockholm Syndrome." 
Great for: Listening while doing little tasks like washing the dishes, tidying up, etc. 
A brand new interview podcast born directly out of the pandemic, LA-based comedian, actress, and writer Sara Benincasa hosts and interviews awesome artists and provides a safe space to relieve stress and unpack your feelings during this challenging time. This podcast is funny, relaxing, and of the moment. 
Great for: Relaxing; her simple breathing exercises are great for quelling anxiety.
Produced by Wondery (the network behind the podcast hit Dr. Death) and narrated by veteran journalist Joe Nocera, this six-part series investigates the bizarre relationship between Nocera's Hamptons neighbor Marty and Marty's therapist. It's better than I'm describing, but I don't want to give anything away because the journey is fascinating, so just trust me on this one; I finished the whole series in just a few days!
Great for: Those who love crazy stories about rich people and con artists. AppleTV+ just picked this up for an 8-episode limited series to be directed by Michael Showalter, starring Paul Rudd and Will Ferrell!
Did you know - before Nick Cage was cast as the Tiger King, before the documentary, before the memes - that Joe Exotic: Tiger King was a podcast? Neither did I. But Wondery re-released this six part podcast in March 2020 and has recently released bonus content.
Great for: If you've devoured the documentary and are jonesing for more, this is a great auditory outlet for your Joe Exotic fix. 
The first podcast I ever listened to, This American Life is truly a seminal journalistic series in the canon of auditory storytelling. You've probably already heard at least one episode of this podcast, but even if you haven't, there is a backlog of over 700 episodes of this educational, narrative-focused show hosted by Ira Glass (produced by WBEZ Chicago) for you to peruse at your isolated leisure. You're welcome!
Great for: Newbies, oldbies, anybies! The most recent episode I listened to, Stuck! (Episode 703), is a collection of stories about people feeling stuck. I think we can all relate right now. 
Crimetown is a podcast that focuses on crime (I know, I know) and corruption from a citywide perspective. Season One chronicles the rise and fall of Providence, RI Mayor Buddy Cianci, and Season Two takes on Detroit, MI. This podcast is produced by Gimlet Media, which produces a litany of other amazing podcasts like Reply All, Motherhood Sessions, and Story Pirates (stories for kids by kids!). 
Great for: Amateur detectives who love to unravel deep webs of corruption from their couch.
The Moth Radio Hour is a heartwarming podcast that focuses on real people's personal stories, performed on a stage in front of a live audience. The show is produced by Jay Allison and team at Atlantic Public Media and has been around since 2009.
Great for: Wanting to feel connected to a deeper humanity on an intimate level.
---
Stay safe out there everyone! And remember - do what you can in these crazy times to put your health (including mental health) first!
---