Is Shoott a Scam?! Shoott vs Other Photography Services
An Overview of Shoott's Business Model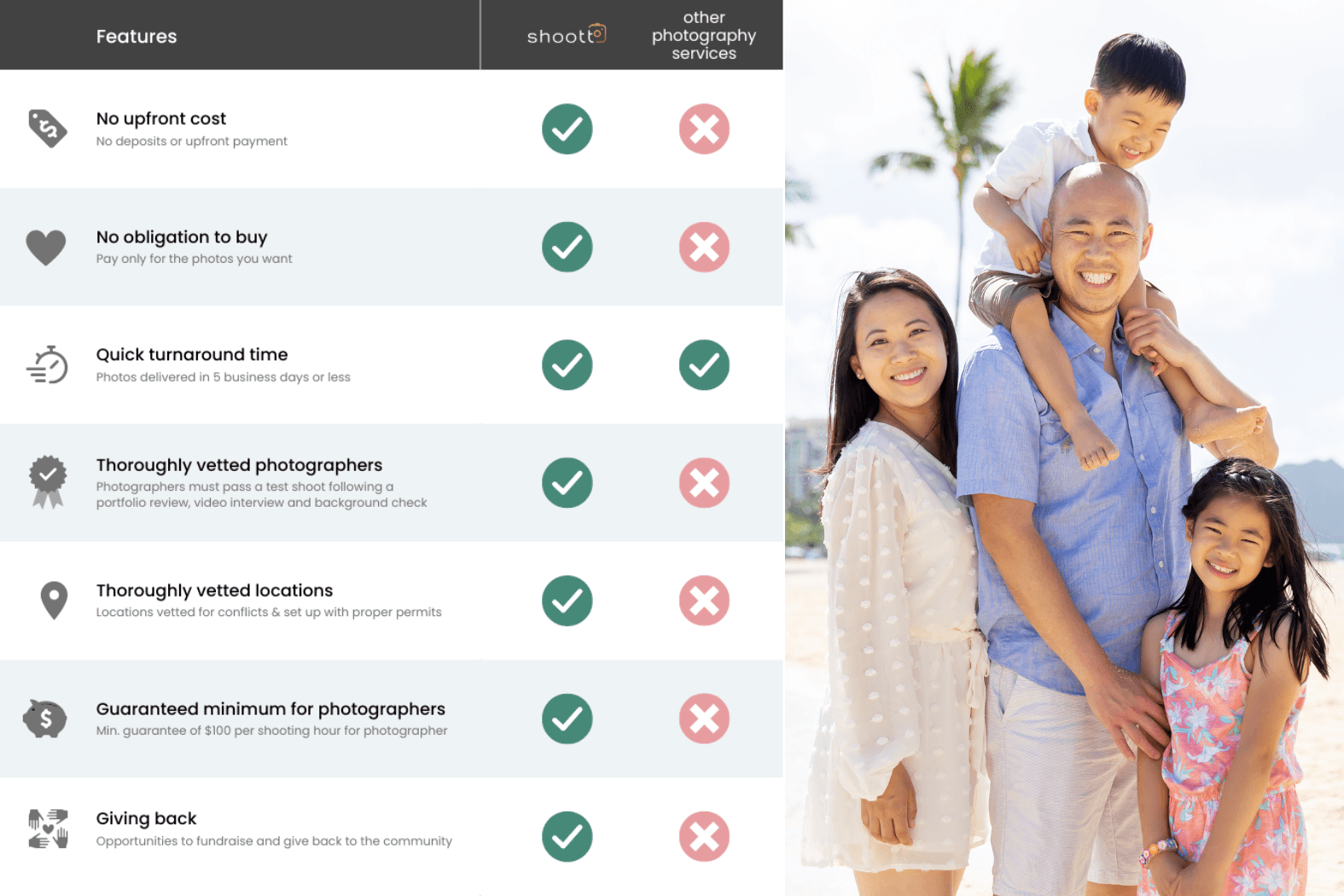 Is Shoott a Scam?!
So, you've been served a Shoott ad promising a free photoshoot, and your first thought is, "It's too good to be true, this must be a scam!" And girl, we get it! To alleviate your skepticism, we've put together this post to help you understand Shoott's business model and confirm that Shoott is, indeed, a legitimate company (they have a 4.9 star rating across Google, Facebook and TripAdvisor). Shoott makes money by selling the photos taken during the shoot and works with professional photographers who are paid for their time and expertise.
Overview of Shoott's Business Model
Shoott, a female-led startup, aims to make professional photography accessible to all by offering affordable, 30-minute outdoor photo sessions. By addressing the challenges faced by freelance photographers in the gig economy, Shoott has developed a unique business model that benefits both clients and photographers.
Key Features of Shoott's Business Model
Free photo sessions: Shoott provides complimentary 30-minute outdoor photo sessions with local professional photographers.

Pay only for the photos you love: Customers are only charged for the photos they select, at $25 each or less.

Minimum pay guarantee for photographers: Shoott ensures a minimum pay guarantee per shooting hour, flexible scheduling, tips, and regular paychecks for their photographers.

Aggregating demand: By consolidating demand at specific locations, Shoott can pass along benefits to both clients and photographers.
What Sets Shoott Apart from Other Photography Services?
Shoott offers a unique business model that combines the convenience of on-demand photography with the quality and customer service of a studio.
Clients receive a gallery of 40+ lightly edited digital photos within 3-5 business days. Additionally, Shoott partners with Paper Culture, a sustainable stationery company, to offer customers the option to order cards or photobooks. With a 4.9/5 rating on Google, Facebook, and TripAdvisor, Shoott's service is highly regarded.
Who is Shoott for?
Shoott's service is ideal for a variety of customers, including:
Couples wanting engagement or anniversary photos: Shoott's outdoor photo sessions provide a perfect setting for capturing memorable moments between couples.

Families looking for outdoor photoshoots: Shoott's professional photographers capture beautiful family portraits in a relaxed outdoor environment, making the experience enjoyable for all family members.

Individuals seeking professional portraits: Whether for personal or professional use, Shoott's photographers create high-quality portraits that showcase the individual's personality and style.

Influencers and content creators: Shoott's service provides fresh, eye-catching content for social media platforms, helping influencers and content creators maintain a consistent and visually appealing online presence.
In addition to these customer types, Shoott's service is also suitable for small businesses and non-profits seeking professional photography for marketing materials, events, or promotional purposes.
Why Choose Shoott?
Shoott is a popular choice for photography services due to several key factors that set it apart from other photography services. Here are some reasons to choose Shoott over another photography service:
Free 30-minute photo sessions: Shoott offers free 30-minute photo sessions at beautiful and convenient locations, making it easy for clients to book a session without any upfront costs.

Pay only for the photos you love: After the session, clients receive a digital gallery of 40+ high-resolution, lightly edited photos within 3-5 business days. They only pay for the photos they love, with no obligation to purchase any1.

Affordability: Shoott's pricing is relatively low compared to traditional photography services, making professional photography more accessible to a wider audience.

Top-rated photographers: Shoott works with a select group of curated photographers, representing the top 2-5% of applicants. Applicants undergo a portfolio and equipment review, video interview, test shoot and background check. This ensures that clients receive high-quality photos from experienced professionals.

Customized photo sessions: Shoott photographers are skilled in various types of photography, including family, maternity, engagement, birthday, and business photos, allowing clients to enjoy a customized photo session tailored to their needs.

Female-led company: Shoott is a female-led company on a mission to make professional photography more affordable and accessible while also empowering local professional photographers.

Flexible scheduling: Shoott offers an array of times and locations for photo sessions, making it easy for clients to find a convenient time and place for their shoot.

Positive reviews: Many clients have shared positive experiences with Shoott, praising the quality of the photos, the professionalism of the photographers, and the overall value of the service.

Giving back: Shoott makes it easy for clients to fundraise or give back to causes they care about, further enhancing the appeal of the service.
Shoott's unique business model, affordability, high-quality photographers, and positive client experiences make it an attractive choice for those seeking professional photography services.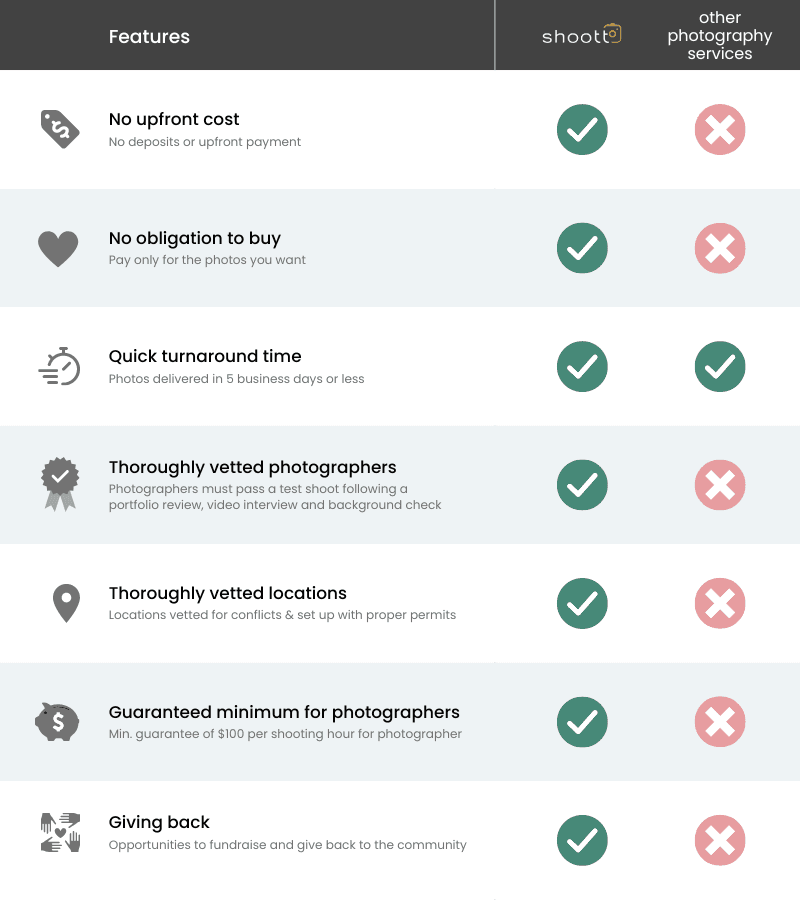 ---